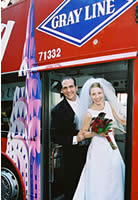 Your wedding day is a once in a lifetime experience and you want everything to be perfect. Transportation and parking can be simplified by offering a shuttle service for your special day. Our experienced and professional drivers will rise to the occasion to make sure your guests arrive safely and in style. You have enough to plan, so call Butler Motor Transit and reserve your bus then let the transportation to us!
Contact Charter Sales at:
724-282-1000 or 1-800-222-8750
Or email us at:
regina.rihn@coachusa.com or alicia.eakman@coachusa.com
Click Here to request a quote.
Like us on our Facebook page